Custom Printing
Shopping/Take-Out Bags - In Bulk
If you go through a case or more per week - you can have custom bags for the same price!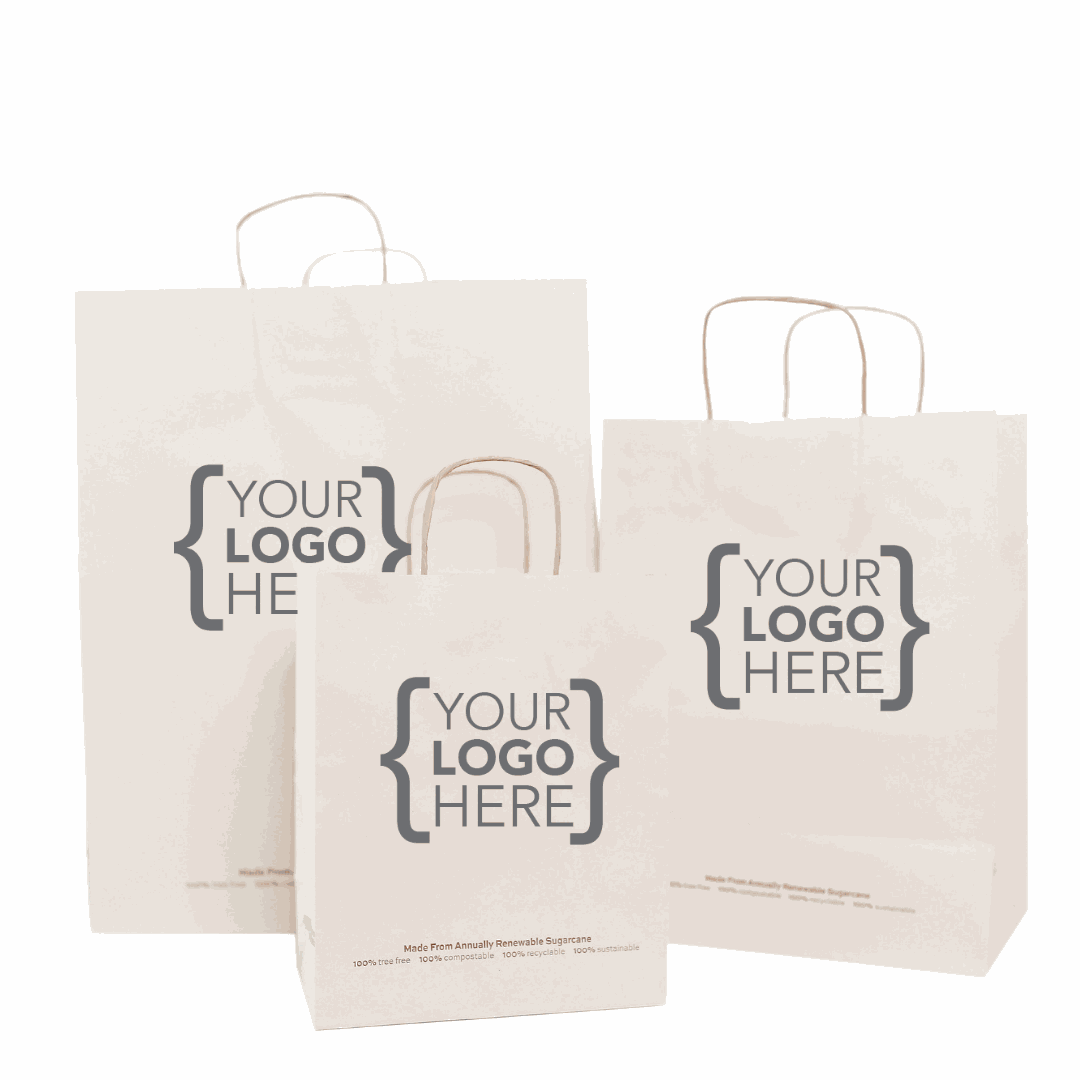 Fast, Easy Ordering Process
4-Color Process Printing . 90 Day Guaranteed Delivery. FREE SHIPPING
1. Select your desired bag size and submit your logo
2. Submit your $200 deposit (will be credited to final cost)
3. Receive PDF proof
4. Approve design, complete order payment
The Most Eco-Friendly Bag on The Market
Elegant twist handled bag that can be printed on in any color and is designed to be sturdier and better for the environment than traditional Kraft bags. These bags make perfect takeout bags for restaurants and retail shops. Bags are not only compostable but they are also fully recyclable and can be put into the standard recycling stream together with other recyclable paper items
- 100% Tree-Free (Sugarcane Fiber - Bagasse)
- 100% Compostable
- No Bleach, Toxins
- 100% Vegetable Ink For Printing
Bag Sizes and Pricing - 30,000 Minimum Order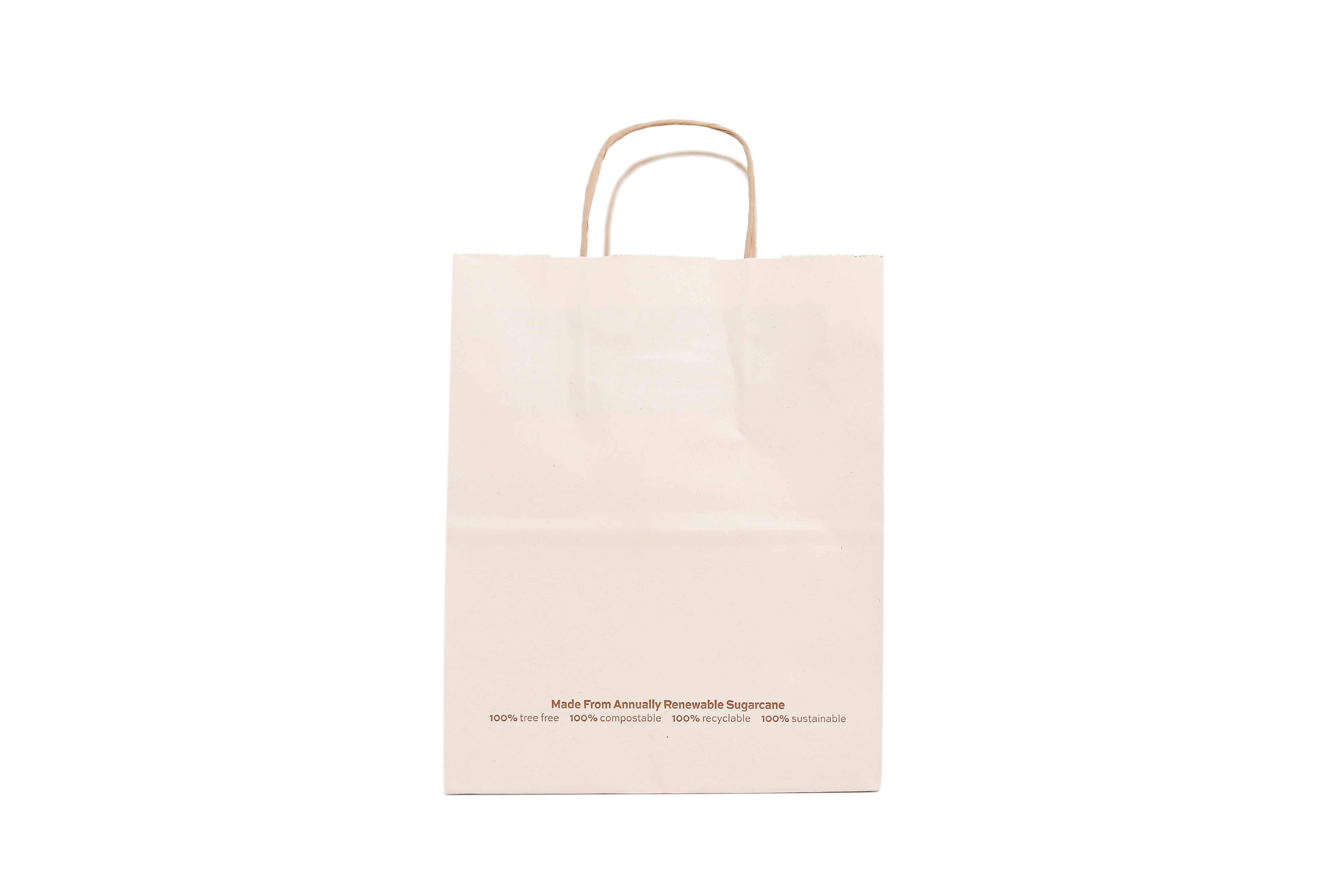 8" x 4.7" x 10"
100 Case Order
300 Per Case
Total Price:
$7,769
Unit Price:
$0.26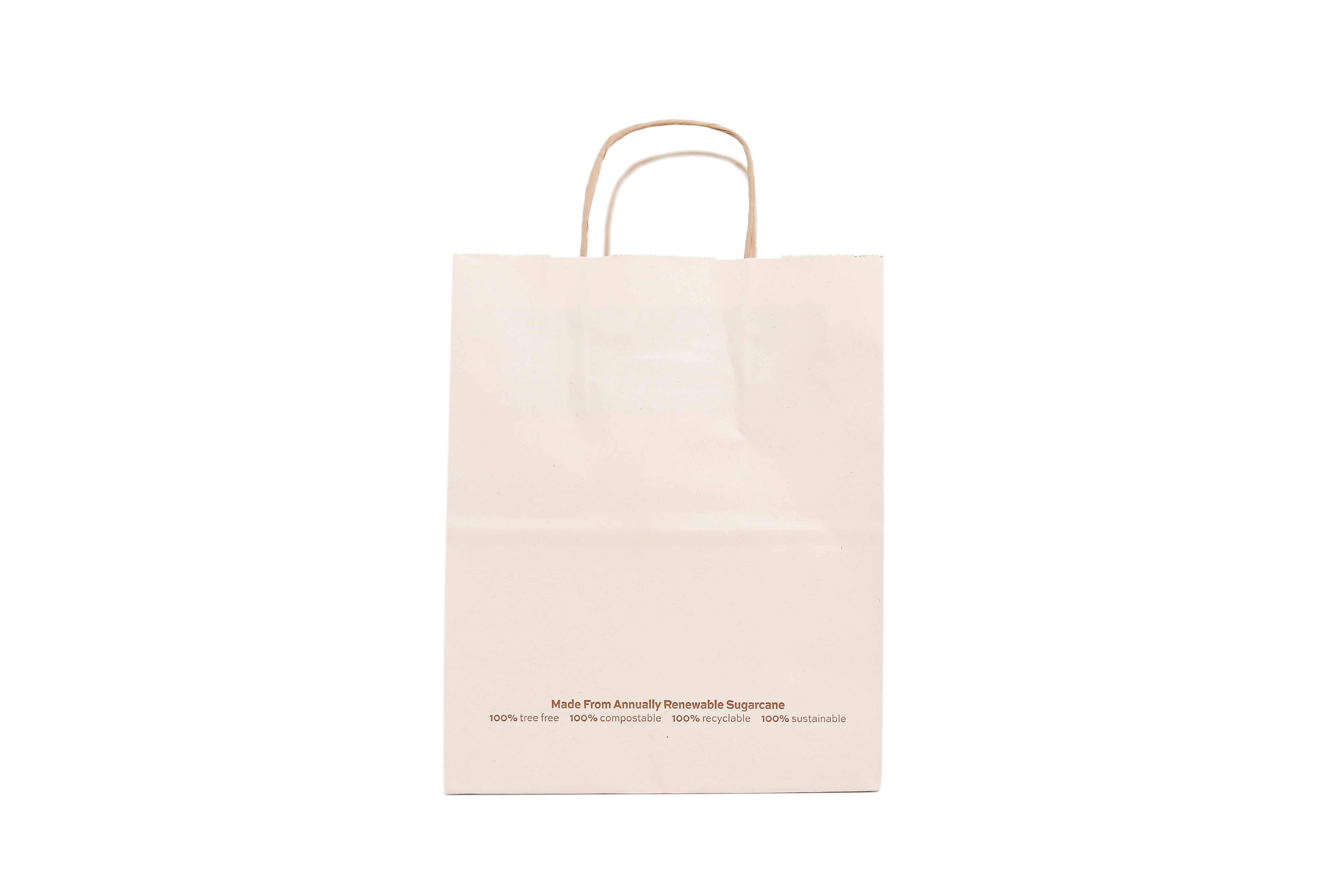 10" x 6.7" x 14"
120 Case Order
250 Per Case

Total Price: $10,799

Unit Price: $0.36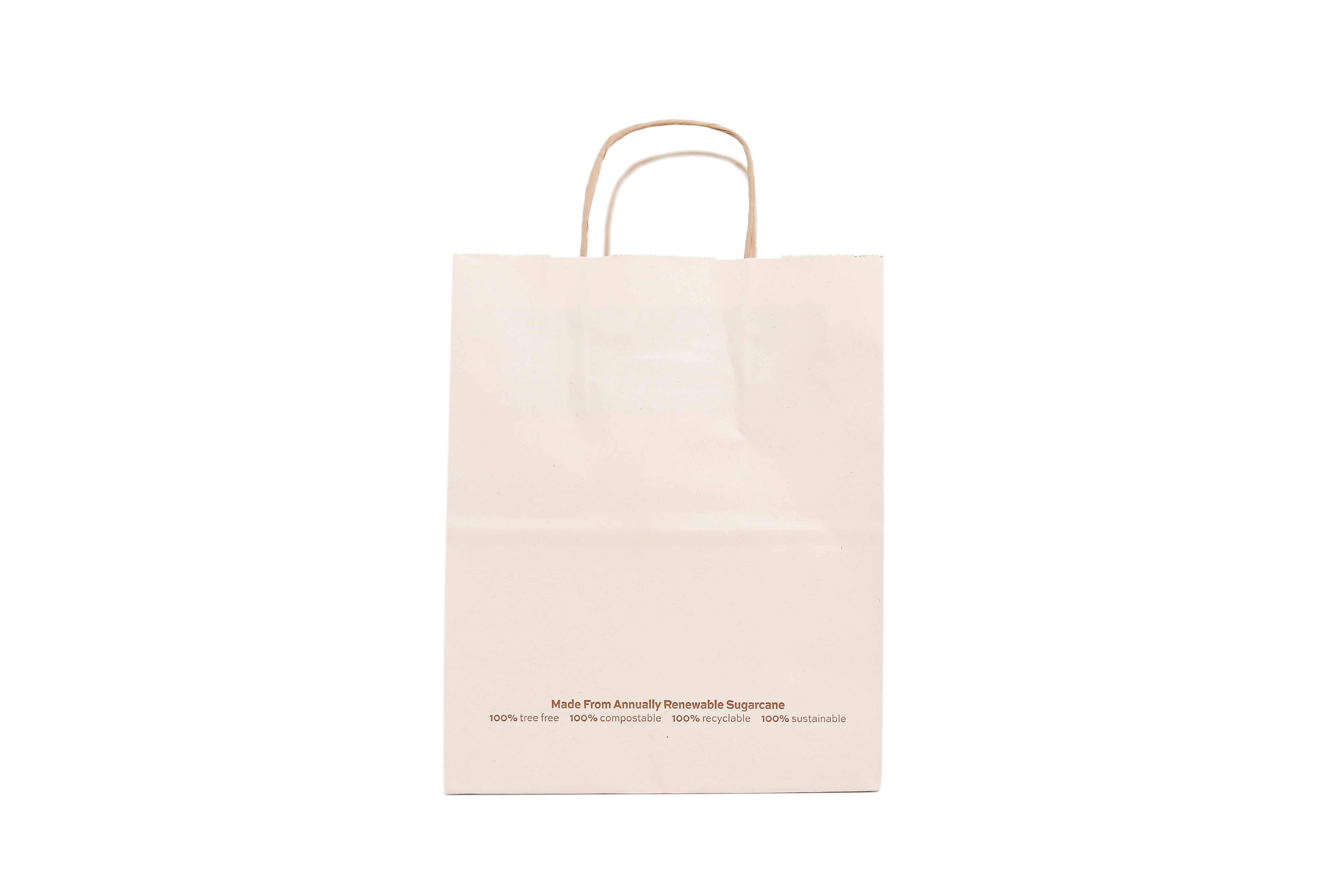 13" x 7" x 13"
120 Case Order
250 Per Case

Total Price: $13,727

Unit Price: $0.46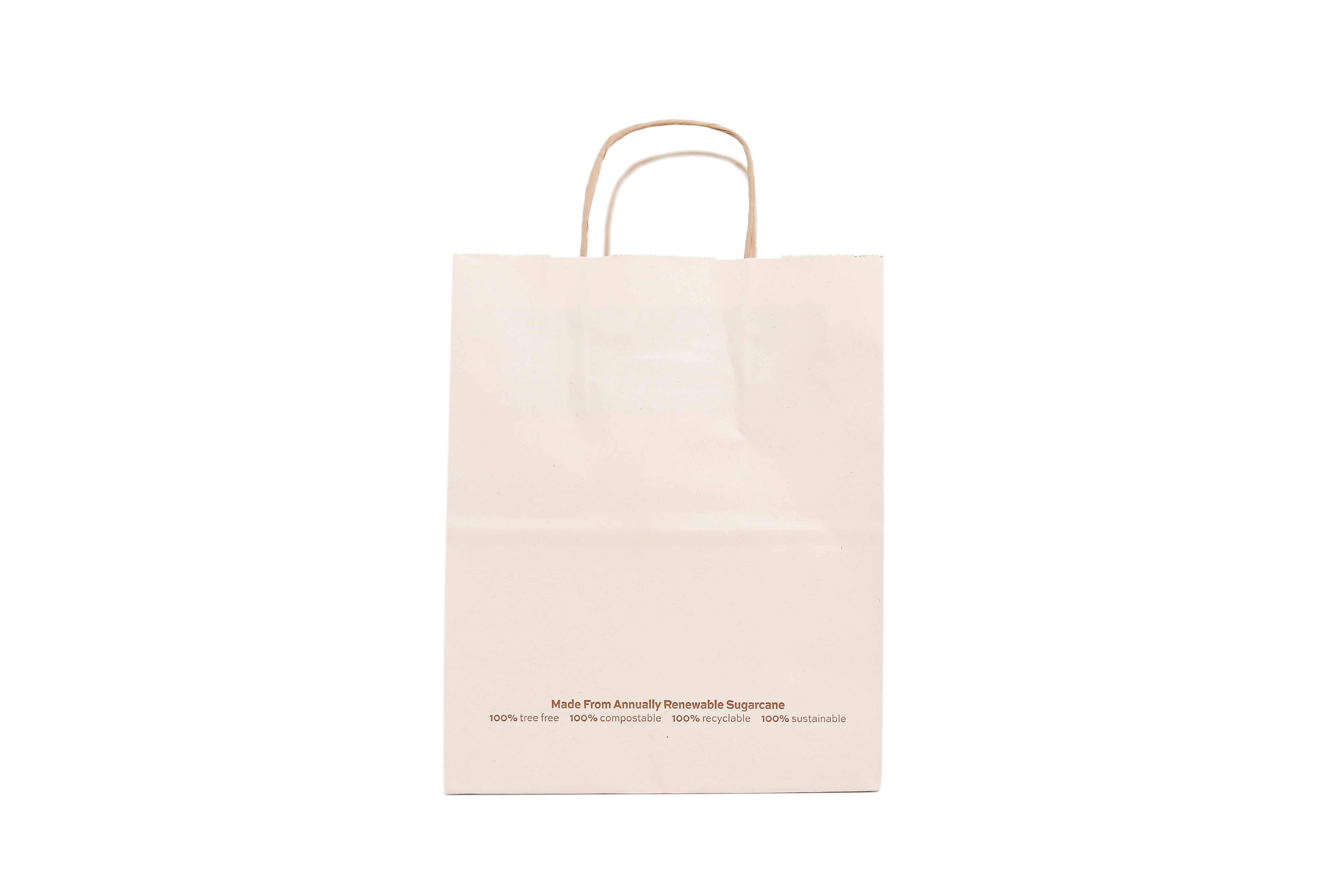 12" x 9" x 16"
120 Case Order
250 Per Case

Total Price: $13,930

Unit Price: $0.46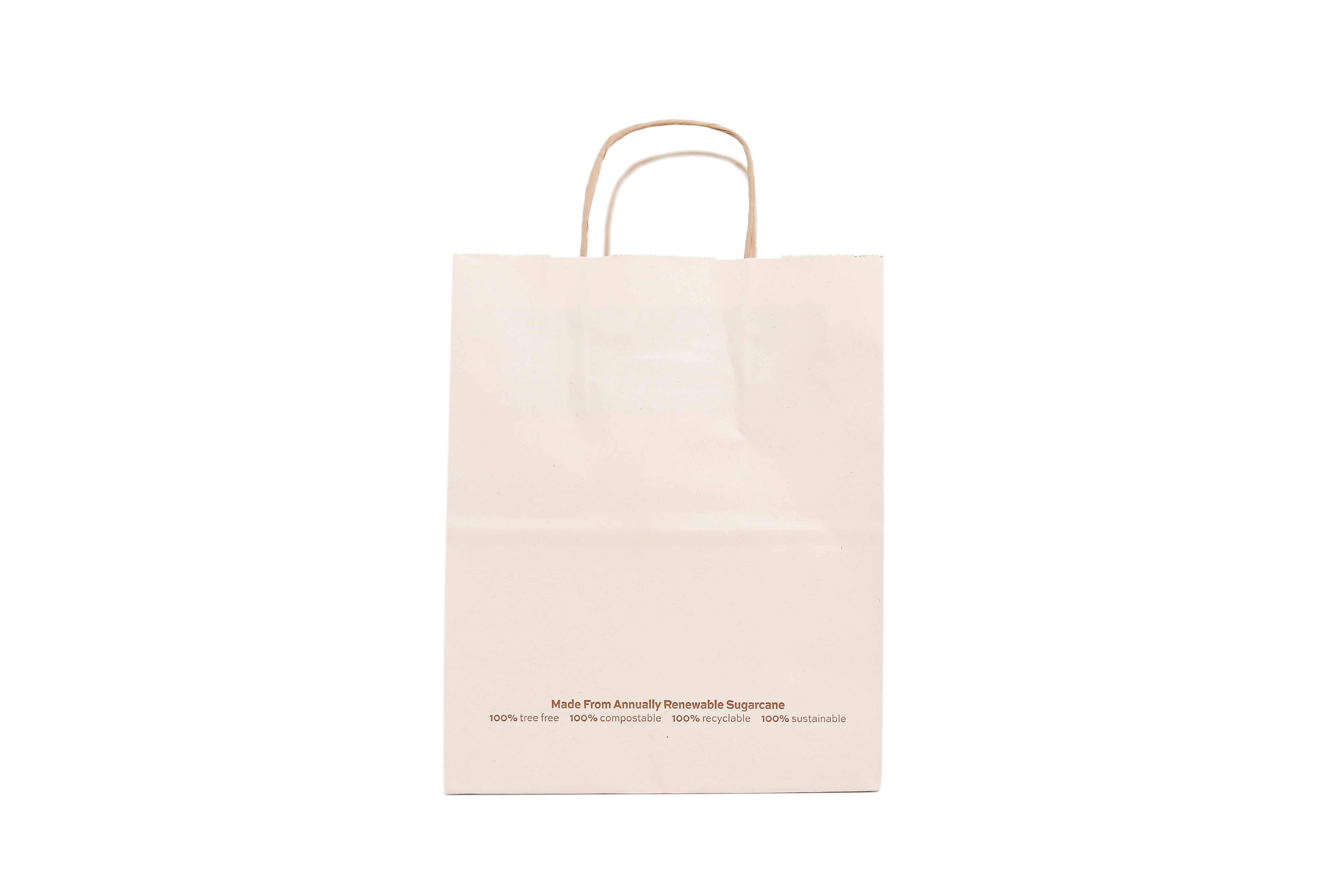 13.77" x 9.6" x 17.5"
150 Case Order
200 Per Case

Total Price: $16,574

Unit Price: $0.55

FAQ - Custom Bags
What material are these bags made out of? Our custom printed bags are made from sugarcane fiber bagasse. This material is 100% tree-free and bleach free. It is home compostable with no bleach or toxins. The ink used to print on the bags is also sustainable and is vegetable ink.
Will these bags be as durable as my current bags? These bags are just as durable as your current paper or plastic to-go bags. We have done multiple weight tests and have customer feedback to support this.

Do I have to buy a certain qty. for custom printed bags? Yes, we have a minimum order qty. of 30,000 bags
Is there a price break at a certain quantity.? Yes, orders of 100,000 bags or more will be given a price break. Please contact us at 727-810-7545 for large orders.
Can I request samples of the bags before purchasing? Yes, please go to our sample form to provide your address
How long until I receive my bags? We offer a 90 day guarantee for delivery. This 90-day period starts once your PDF Proof is approved and final payment has been made.
Can I design my own bag with more than just a logo on it? Yes! You can design your bag anyway you would like. We will provide you with the dieline and your graphic design team can get as creative as you would like (within 4-colors). Please click here to request a dieline